Innovative Bottle Design
Unlike other preservative-free drops, the I-DROP® VET GEL's bottle has a one-way valve system that dispenses one sterile dosed drop at a time. Therefore, eliminating any chance of the product re-entering the bottle. The one-way valve prevents contamination of the liquid and allows for a longer usage time after opening (12 months). This bottle also has silver ion, a well-documented antimicrobial, in the cap that re-sterilizes the tip of the bottle once the cap is closed.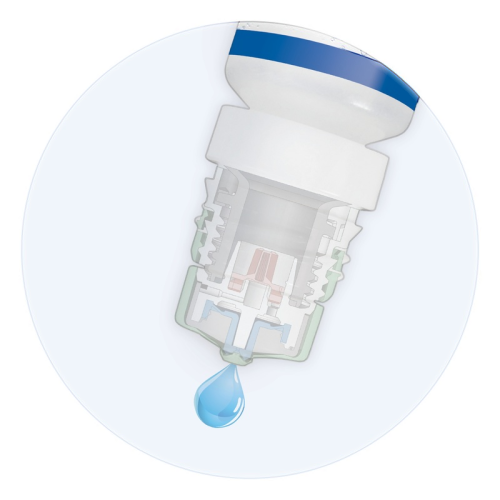 INGREDIENTS
Water for injection, sodium chloride, 0.30% viscoadaptive hyaluronan, glycerin and sodium phosphate.
INDICATIONS
I-DROP® VET GEL is intended to supplement an animal's natural tear film. This eye drop has been specifically formulated with human quality manufacturing standards and materials because we believe that pets deserve the highest standards of care available.
This preservative-free drop can be used up to 12 months after opening.
Following your veterinarian's recommendation, you may need as little as two drops a day in each eye.
TIPS & TRICKS
After use, there may be a residual amount of liquid remaining on the blue tip. This confirms that the bottle is working as designed and not drawing this liquid back into the bottle. This one-way valve is critical in keeping the remaining solution sterile and safe. Even a minuscule amount of fluid exposed to a non-sterile external environment may become contaminated. If any residual solution remains on the bottle after use, simply flick it off and close the cap tightly.
INSTRUCTIONS FOR USE
1. Ensure hands are clean prior to use
2. Open safety seal
3. Turn bottle upside-down
4. Position central blue dot of bottle above desired application area
5. Gently squeeze bottle until a single drop forms and falls (this may take a few seconds)
6. Repeat on second eye
7. Flick off any residual liquid
8. Close cap tightly
Let us know abour your query!